Week 1: Student blogging challenge
Create an avatar AND a post about it
As we have already created an 'All about me' post we are going to begin the challenge by creating an avatar to use on our blogs.  There are many different avatar creation sites on the web. I have explored many sites on the symbaloo of websites provided by Miss W on the week 1 challenge. Below are some of the avatars I created and links to the sites I used.
https://pickaface.net/create-avatar.html 
http://www.faceyourmanga.com/editmangatar.php
http://www.pocoyo.com/en/pocoyizeyourself
http://www.reasonablyclever.com/mini/
http://apps.warnerbros.com/greatgatsby/avatarcreator/us/
All of the sites I have included above did not require any registration. I found the easiest way to save it when complete was to do a screen shot or capture by selecting the Print Screen (PrtSc) button on the keyboard, open Paint, paste, crop and save the image as a JPG. From there it was as easy as going to the dashboard, selecting users, your avatar and following the steps from there.
Once you have created your avatar and uploaded it to your blog I'd like you to write a post about it explaining how it represents you. See mine below for ideas. Don't forget to include a link to the site you used to create it. Have fun!
My Avatar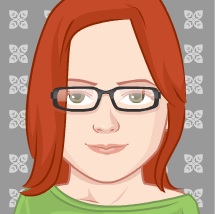 I chose this avatar to represent me because of all those I created, this was the one that looked the most mature. (Note I didn't say the oldest) I gave my avatar reddish brown hair, hazel eyes and a broad nose. I also decided to put glasses on my avatar even though I don't wear them all the time. I do need them when I am reading and working on the computer which is most of the time when I am in the library. I selected a green dress as it is one of my favourite colours to wear. The background I chose has flowers as apart from reading, gardening is my other passion. What do you think? Did I choose the right one?
I created this avatar using https://pickaface.net/create-avatar.html