Latyrell
Some cool posts from Latyrell.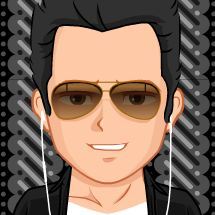 My avatar is one of the coolest I have ever made. My avatar is a handsome avatar that has dark sunglasses, it has a black leather jacket with a zip and has buttons. My avatar has tall, fuzzy black hair going sideways. The avatar has a happy smile with earphones to listen to the best music. Here is my avatar!
I used https://www.cartoonify.de/ to create my avatar.
---
The Spooky House
CRASH! BANG! The old rusty door slammed shut as my heart pounded as fast as a car revving. I walked slowly through the house. There were old cob webbed paintings of a man hanging up all through the house. "The house is so old and creepy" I whisper to myself. As I go creeping upstairs I heard the  front door open. Suddenly a man slammed the old door closed…
What happens next? Please comment and continue the sizzling start!    
---
My Family
Family is the most important thing in my life. My best memory is when it was my birthday on New Years day in 2015. I went to the beach with all my family and had a BBQ with rissoles and sausages for lunch and had an awesome time at the beach. My family members who went too were all my uncles besides one, all my aunts and also my Nan. I had a great birthday at the beach!